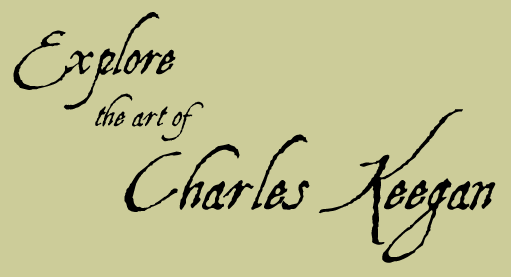 ---
AVAILABLE PRINTS
18 different images to choose from!
- Special Editions and Poster Prints -
plus 3 new Limited Edition Prints!
We accept Visa, Mastercard, Discover Card, personal checks, money orders and PayPal.
---


RECENT NEWS & UPCOMING PROJECTS
Find out what Charles has been up to lately...
---
GALLERY
View select pieces from Charles' portfolio
and vote for your choice to be included in the next series of prints.
---
ORIGINALS FOR SALE
Sketches, drawings and paintings available
---
Guidelines for
PRIVATE COMMISSIONS
---
ABOUT CHARLES KEEGAN
Biographical information and lists of his published works
---
---


Use this banner to link back to us!
All images copyright Charles Keegan (except where noted). All rights are the personal property of the artist. No image may be published or reproduced in any form or for any purpose without the written consent of the artist. This includes any electronic means of image transfer in whole or in part.